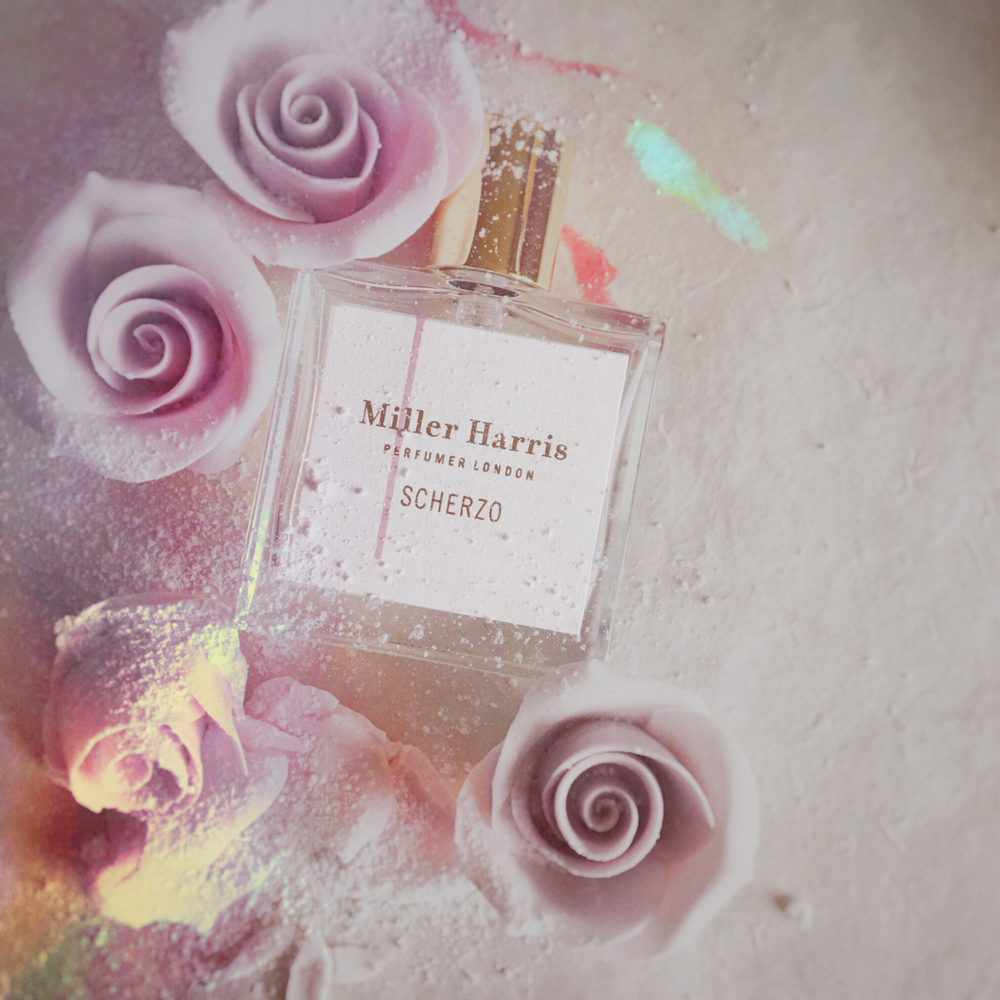 The Silver Fox Meets Mathieu Nardin
Mathieu Nardin started working at Miller Harris after Lynn Harris departed in 2014 to establish the Vermeeresque Perfumer H in Marylebone. I love the creamy insouciance of Rose Silence he composed for Miller Harris; now one of the brand's best-selling fragrances and his Vetiver Insolent is a perceptive and succulent interpretation of an often-overworked material.
It is a daunting task to succeed a revered perfumer; ask Christine Nagel at Hermès or Fredrik Dalman at Maison Mona Di Orio. But Mathieu has created elegantly different work with a signature of his own, focusing less on the mutability of life and painted romances of the mind and more on the properties and personalities of the materials themselves.
His perfumery credentials are impeccable, a Grasse native whose childhood is fragranced with the odour of jasmine and rose harvests. After a BA in chemistry at Nice University and directional immersion in olfaction at the ISIPCA in Paris he returned to Grasse to work at Robertet. I like Mathieu's work; it has that Robertet polish and soft glow and demonstrates a beautiful awareness of natural materials.
Now with the launch of Scherzo a scent Mathieu has created for Miller Harris, alongside Tender by Bertrand Duchaufour I sense a bold artistic surge in his artistic direction, reflected in the vibrant snapped green vs. gentle gourmand dynamic interpretation of a literary brief.
Both perfumes are inspired by a passage from Tender Is The Night by Jazz Age melancholic F. Scott Fitzgerald. The recently appointed CEO of Miller Harris Sarah Rotheram is a voracious reader and whilst on holiday in summer 2016 was struck by a particular passage and it's potential to enthuse and inspire perfumers. I was delighted to be given this opportunity to speak to Mathieu in New York where he is based with Robertet USA and ask him some questions about his work on Scherzo and Miller Harris.
Q: Hello Mathieu.. you are a perfumer for Robertet, a Grasse-based company, but you are now working in their creative centre in New York. Can you tell me a little bit about what a typical working day might be like for you at Robertet?
A: Hello Alex.. yes I moved to New York to work with Robertet five years ago but I spend time travelling back and forth to France and Grasse in the south. I am always working on a number of different projects so a typical day for me would be coming in early morning and smelling the samples I have prepared the night before. It is important to bring a fresh perspective to the process, like clean air. The nose overnight to morning will smell things differently. Before I leave, at the end of the day I allow myself some personal time, like creative playtime if you like, to explore new ideas. It is a way exercising my brain and senses.
Q: You have perfume running through your veins. What was it like growing up in Grasse, breathing the floral air in the acknowledged historical heart of French perfumery?
A: My grandmother is a producer of rose and jasmine in Grasse and this I think had an influence on my interest in becoming a perfumer. I find natural ingredients always captivating and inspiring. Growing up in Grasse you live in harmony with the world of fragrance and of the rhythm of nature: the blooming of the flowers, their harvest, and their extraction. I became fascinated by the journey of a material: from harvest to bottle. Flower harvests are back breaking work; huge quantities of flowers are needed to produce the oils and concrètes. Take the jasmine, it is more than the flower itself, it is the story and the work of so many people and expertise.
Q: You have a chemistry degree and further training at the ISIPCA in Paris. When you are working on briefs, how aware are you of balancing creativity with immaculate technical skills?
A: It's all about the creativity for sure. The technical side must be invisible. You must be able be to adjust the technical aspects to achieve artistic effects but at the beginning, the idea, the concept; this must be focussed on the creativity. It is like a being a writer, having a huge palette of words, a complex lexicography to work with, but knowing how to translate ideas you have with the right words. It must appear effortless and flow with the creative style.
Q: As a rose obsessive I am a huge fan of Rose Silence that you made for Miller Harris. It smells so creamy and white, somehow abandoned, like a tribute, damp with rain. And Vetiver Insolent is one of most refreshingly different takes on the iconic rooty grass. How would you describe the perfumes you have created for Miller Harris?
A: My idea for Rose Silence was to create a different kind of rose scent for the market. A modern rose perfume that was sort of artisanal and very contemporary. As far as Vetiver Insolent is concerned, I wanted to create a textured wood with plenty of facets and touches of spice.
Q: In an interview with the Perfume Society you said '…as a perfumer, when I read a book I can smell what I am reading – the sense of what the writer is describing.' Now this is a very intriguing quote in light of your most recent work for Miller Harris, Scherzo, inspired by a specific passage from Tender Is The Night by F. Scott Fitzgerald. What did you think of being handed this passage as a perfume brief?
A: This was very unique, this brief, the passage from Tender Is The Night. Normally I might be given images, words maybe some music etc. But this passage was very vividly described; the tulips, pink clouds of peonies, sugar flowers and mauve roses. I was already familiar with the book and it was very important to imprint on the fragrance the mood of the entire novel. Tender Is The Night is set in the south of France, on the French Riviera; there are incredible descriptions of the sea, sun and heat. In my mind I created my own colours and palette for this book and for its characters in order to fill in the background for Scherzo.
Q: I must admit to a sweet tooth in scent, it's a guilty pleasure, a throwback to my obsession with Mugler's Angel when it first appeared. Scherzo, for me has an odour of empty cake boxes with traces of sugar, shattered sugar roses, pollen and petals. How did you balance sweetness in Scherzo and still maintain a sense of floral bouquet and fresh greenery?
A: Indeed, there is a gourmand aspect to Scherzo, which plays in contrast to the green floralcy of the composition. Something to make it pop. Like a painter playing with colours, laying down contrasting tones side by side on a canvas.
Q: I'm intrigued by your use of Pittosporum in Scherzo; it is not exactly a common perfumery material. Can you tell me a little bit more about it and why you chose to use it?
A: Yes of course…it is a little unusual. Pittosporum is a super-strong, spicy sweet bloom that can be found as hedges in the south of France. The scent as you pass by is hypnotic, an intoxicating mix of orange flower and jasmine. In my reading of Tender Is The Night I could smell this in the air, in night scenes, dinner parties outside. It was very vivid for me.
Q: As we are discussing a literary work, do you find time to read Mathieu amid your schedule?
A: I like to read; I try to read a book a week if I can, even if finding time is sometimes difficult. My favourite time for reading is actually in the morning; I like to wake up and read for an hour, this is a good quiet time before I start my day.
Q: And connected to the above, is there a book you think you would be an amazing inspiration for a scent?
A: Hmm. This is a difficult question. Perhaps À Rebours*, the book by Huysmans. It is full of decadent and sensual descriptive passages, including some on perfume.
Mathieu, thank you so much for talking to me today, I really appreciate you taking time out from a busy day to sharing some inside perfume thoughts and inspirations on fragrance creation.
Foxy.
*Sometimes translated as Against Nature in English
Miller Harris Interview Intro & Questions, February 2018