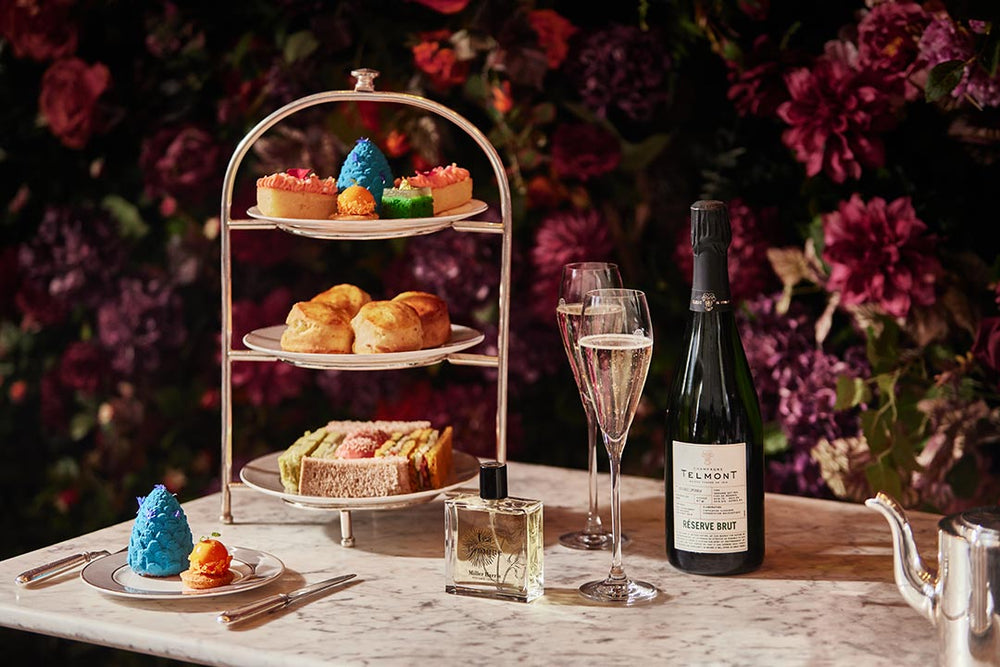 Miller Harris x Dalloway Terrace
This season, we're dreaming in colour and we're inviting you to join us on a sensory experience like no other...
Nothing gets us feeling festive like fine dining, fine cocktails and fine fragrance, and this season we've partnered with one of London's favourite food spots, Dalloway Terrace at The Bloomsbury hotel, along with Champagne Telmont.
Injecting a pop of Miller Harris colour, the Dalloway Terrace has transformed into an immersive hideaway with a vibrant and cosy installation by award-winning floral designers, Early Hours. From deep flourishing rouge tones to warm purples, the Terrace's new look exudes a seasonal atmosphere and will evolve from an autumn hideaway to a winter oasis as the seasons transition. The restaurant's new look encapsulates the classic French style intrinsic to our fragrance house and at the essence of Telmont's exquisite bubbles, with a British sensibility.
An Aperitif...
Working closely with the Champagne Telmont team and Dalloway Terrace, has devised a series of cocktails, harnessing Telmont's ancestral 'je-ne-sais-quoi' for Champagne cocktail – each one created with a signature Miller Harris fragrance in mind; Scherzo, Tea Tonique, Rose Silence and our newest fragrance Oud Éclat.
Something for desert...

To make a visit to Dalloway Terrace a truly multi-sensory occasion, the restaurant's much-loved Afternoon Tea menu has been given an aromatic and colourful revamp by Dalloway's Head Pastry Chef Chris Dodd. With flavours that complement our most-loved fragrances, this tea will transport you to a fragrant wonderland.
For a twist of Scherzo, there's the tangerine cream on an orange and vanilla biscuit, for taste of Tea Tonique, there is an Earl Grey and green tea jelly with green velvet sponge. For our classic, Rose Silence, delicately scented rose and almond sponge topped with rose cream and an expression of our newest fragrance, Oud Éclat, a velvety dark chocolate mousse with spice liquid centre. The selection of sandwiches includes marinated cucumber & cream cheese on pain de Mie; egg and cress mayonnaise on a colourful brioche bun; poached salmon and crème fraîche on farmhouse bread and brie and plum tomato on multigrain bread. Traditional afternoon scones set to impress include the vanilla & lemon and golden raisin which will be served with Devonshire clotted cream and Scottish raspberry jam.
Discover the fragrances that inspired the menu...
Scherzo
Tea Tonique
Rose Silence
Oud Éclat
Visit Dalloway Terrace to book your visit now.