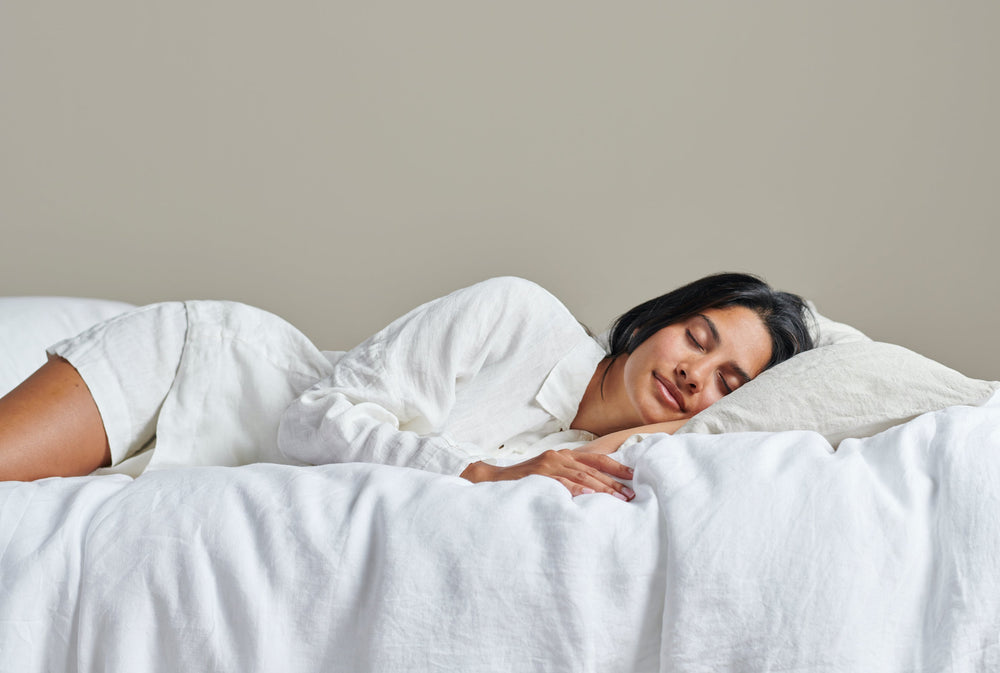 New Year Rituals with Bedfolk Founders, Jo & Nick
Last week, we caught up with Bedfolk on their top tips for making the most of the smaller moments and the art of creating conscious rituals that cut through the noise and chaos of our busy lives. This week we tap further into this and explore what habits their team are practicing this year...
Good habits start with good sleep.
Bedfolk: Obviously for our team, and our community, good sheets are a non-negotiable! Comfort is key, and that means resting on lofty, light pillows and duvets, with natural, breathable covers. The difference it can make to your sleep experience – and therefore your day-to-day life - is huge. Our number one tip would always be to sleep in 100% linen or 100% cotton, for natural softness and breathability. Getting too hot at night can really disturb your sleep.
More generally, rituals can play a huge part in helping us to wind down. I've taken inspiration from my young daughter, who every evening has the same warm bath, bottle, book and bed routine, at the same time. As adults we often feel too busy to create a routine for ourselves, but experts often say it's the foundation of healthy sleep. So creating an irresistible routine that helps you wind down for bed can be so helpful.
Everyone is overwhelmed with daily demands, so it isn't about a lengthy unachievable ritual. It's the tiny, realistic tweaks, like making your bed every morning so that it's delicious to climb into at night, putting some drops of an essential oil onto your pillow every evening, or swapping TV for reading in bed before drifting off. As a founder and a Mum, my winding down for bed routine is the one time of day I have to myself, and I really cherish it, however brief it may be.
M.H: Good sleep is the foundation of everything. In preparation for bedtime, we like to set the scene with a scented candle – or two! Try turning off your lights twenty minutes before closing your eyes and let the glow of a golden flame fill your room – a simple and quick action that can quickly transform the atmosphere and your mindset.
A spritz of scent on your pillow or pulse points can help indicate your body that it's time for sleep. Look for notes of lavender, rose and cedarwood - all renowned for their relaxing and anxiety alleviating properties. If you're running out - studies have shown that the scent of your partner can help to lower stress levels and aid sleep – so reaching for their fragrance or shirt for can bring that extra dose of comfort to help you drift off…
On a more personal note – what rituals are the Miller Harris and Bedfolk founders committing to this year?
Jo & Nick, Founders of Bedfolk: We're married founders, so it's easy for our business to completely take over our lives (especially when we go to sleep and wake up in our products every day). Bedfolk is our passion, and we love what we do, but we notice such a difference in our productivity and happiness when we invest time in winding down rather than being consumed by work. Our brand ethos is all about winding down well, so living this feels important as the founders and is something we are even more committed to this year.
For us that means investing more time in ourselves outside of the daily demands of life as a founder. Nick's way of winding down is often based around being active, he loves adventure and switches off by doing things like climbing mountains. So, he's committing to more adventure, more travel and more experiences.
I am the total opposite and a complete homebody, so I'm making a commitment to slow time and rituals of rest. With a toddler and a business, taking an hour to read a book under a quilt, or even nap, is the ultimate luxury, but having that time is transformative and makes me a happier, calmer Mum and founder.
A joint ritual which helps us to wind down after work is eating together as a family in the evening and cooking together as much as possible too. It's such a lovely thing to do, and a huge perk of working together is having the ability to carve out this time as a family each day. We're learning lots about plant-based whole foods at the moment and enjoying making cooking a family ritual (ideally with a G&T in hand).
Jon Graham, CEO of Miller Harris:
Since the pandemic the world in general became more conscious of the world around us and reminded itself of the positive benefits the environment and nature offer. We gained a more appreciative view on the positive mental health benefits that a balance between work and social life brings. We recognise that if we look after our own health (physical and mental) then our productivity increases. Small things became big things.
The Miller Harris fragrances I am wearing reflect this. Fragrances with a positive effect on my well-being. Vetiver has become a huge favourite. Le Cedre. Wander. La Feuille. All fragrances connected to our natural world. Nature never far away. This re-connection has been incredibly beneficial for me and the people around me leading to a more balanced lifestyle and a more focussed and productive professional life.
Ritual-wise I've committed to more self-care this year. I'm fortunate enough to live in an environment where I can explore a city, the South Downs and the sea all within minutes of leaving my front door. Early morning dog walks by the sea to spark my day and remind myself there is a horizon. Taking myself off to the South Downs where I can forage or wild-camp. I have practiced yoga for many years and I fine tune my practice every day. 20 min Yin Yoga session pre-bedtime works wonders. I am committed to reading a book a month. A real book. No screens.
Building time into your day for "you" is imperative.
WIN A LUXURY BUNDLE OF MILLER HARRIS AND BEDFOLK PRODUCTS WORHT OVER £600*
Don't miss out on our limited-time competition with Bedfolk! Head over to our competition page here to find our what you can win...

*Please note this competition is for UK entrants only. Competition closes 29th January 2023.