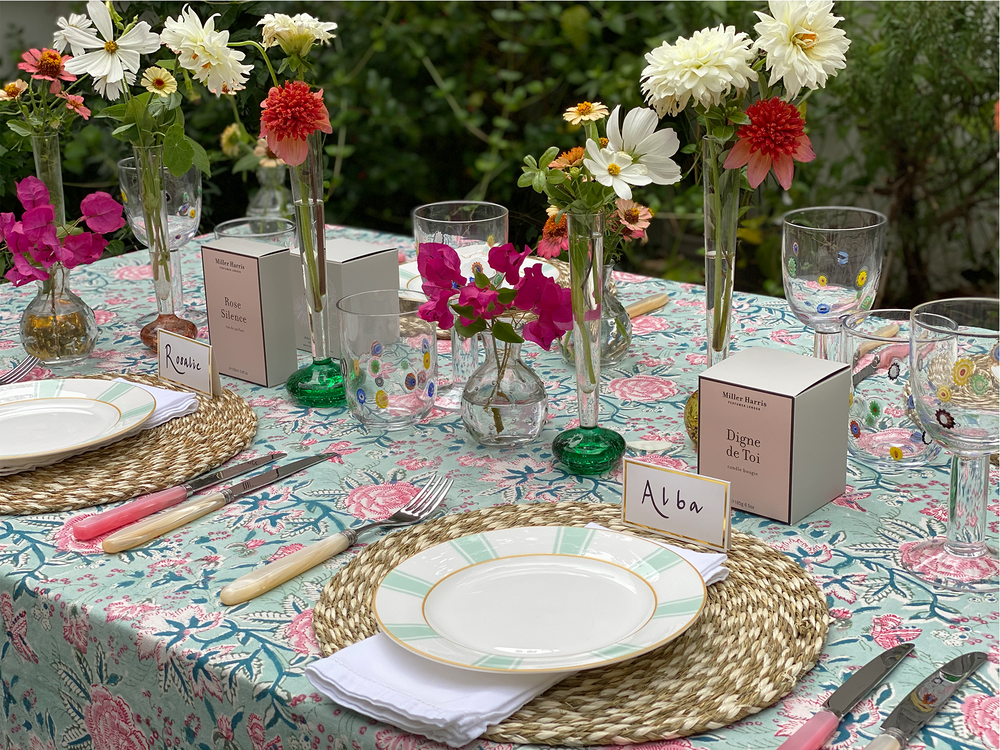 Celebrate the last of the summer sun!
From al fresco lunches to dining under the stars, this summer many of us have turned to our own backyards for entertainment.
With not long left to enjoy the warm weather, we catch up with tablescape rental service, Lay London to discover their top tips for hosting at home and explore how we can enjoy the last of the summer sun in the comfort of our own gardens!
The great outdoors…With everyone having been cooped up inside for so long, getting outside and relishing the outside with friends has never been more important. This summer we've created table settings this summer for clients relocating their originally-planned celebrations (from the glamourous Ibiza and St Tropez) to the great outdoors. How fun to surprise friends by discovering a stunning set-up outside. Garden parties can be decadent or homemade, you just need a party atmosphere!
Fun prints… If you're short on tableware, a fun, printed tablecloth makes the table sing for its supper, and from there you can't go too far wrong. It can add charm when things feel a bit 'thrown together' and tablecloths are the one thing we are sure to use if laying-up in a hurry.
Theme it… We love creating a theme for the table; our 'Garden' Collections are inspired by wildflowers and botanical trellising, so we opted for a leafy palette, with flower-specked Italian glassware and pearl green flatware. Colours on the table should be joyful; we often style glassware and flatware in alternating colours on the table, for a jewellery-box effect.


Flowers… There's no doubt about it, fresh flora and fauna bring any tablescape to life. Handy tip: arranging little flowers in bud vases along the table can be more effective than a couple of large centrepieces. If you're missing bud vases, egg cups or jam jars will also do the trick. No flowers? Get fruity, arranging bowls of lemons, limes, oranges or pomegranates to add freshness and colour. We love scattering bud vases along the table, overflowing with cow parsley and wild roses.
Food… The food doesn't need to be fancy – that's what dining out is for. It's fun to create a menu to tie in the table décor and occasion. For example, our Tea party-inspired 'Earl Grey' tablescape is a great excuse to simply serve sandwiches!
On the table… Thin-rimmed glasses make drinks taste better, no question! All of the glassware in our collections has been hand-blown in Italy,and you can really feel it when you pick up a glass that is light-weight and tactile. Add a bit of height to the table with tall jugs and pitchers, or candlesticks to create a bit of drama.
Let there be light! As the sun is setting and the lights go down, a subtle glow from lanterns or little tea lights on saucers create a cosy and romantic atmosphere. Once food is cleared why not put out some gorgeous floral-scented candles like Miller Harris's 'Rose Silence' to flood the table with a whimsical fragrance?
The guests: Make each person around the table feel that bit more special by adding a personal touch to their place setting. This could be anything from a funny illustration to a hand-written menu or even a bag of sweets tied up with a pretty ribbon. Or, if you really want to spoil them, why not gift a beautiful candle or fragrance, awaiting each guest on their placemat for a "wow" on arrival.
Shop the story:
Rose Silence Eau de Parfum 100ml