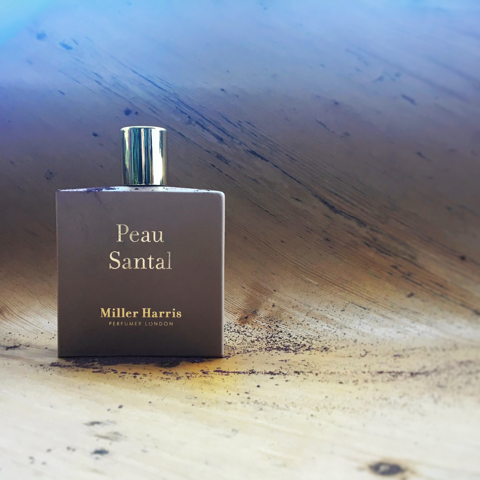 The Scent of Skin: Peau Santal & Powdered Veil
The skin we're in is sixteen percent of our overall body weight and the largest organ we possess; calibrating a vast array of stimuli that can raise us to ecstasy or bring us to our knees, supplicant in agony. We pierce, ink and cut our surfaces but also soothe, salve and ritualise. Without skin, perfume is nothing but molecules hanging in time; complex blended accords, intricate structures waiting for the heat of throat, thigh, wrist and collarbone. It is this delicious legerdemain of perfume expanding and projecting from the body that makes the wearing of scent so utterly compelling.
Miller Harris is besotted with flowers; they explode through their stores, social media and of course their gorgeous library of perfumes such as Tuberosa, Rose Silence, Coeur De Jardin and Le Jasmin among others. The House has been innovating in recent years, things are shifting; there is neon and painted petals amid the flora. Poetry, painting, botany, photography and disruptive beauty are flourishing amid the dazzling flora. Graffiti flowers and dazzling sci-fi boulders are part of the dream, perfumes inspired by jazz age novels and the satisfying thrill of city foraging…pockets of wild London, hidden away amid looming blocks and old architectural byways.
For their latest launches, Peau Santal and Powdered Veil, Miller Harris has laid flora gently to one side for an imagining of dream skin, how perfumes diffuse and adore our surfaces. I have been wearing them for a while now, on their own and even more deliciously layered together, creating a mix of vanillic woodiness dusted with butterfly wing delicacy. They are private scents, a genuine comfort amid the cacophony of modern perfumery.
Peau Santal is a laying down of sandalwood with green violet leaf, vanilla and the unfurling of a cool metallic frankincense note. I like its kindness and addictive dry papery mood. Sandalwood scents are often described as creamy, it is the nature of the natural wood, however due to prohibitive costs of natural sandalwood, there are a veritable forest of synth-tree substitutes out there for perfumers to utilise in compositions. These add their own deeply satisfying artificial edge to an imagined wood accord and in Peau Santal it is almost like peeling the bark off an aromatic tree to find the glint of metal below.

To my senses Powdered Veil is a very specific shade of pink, something muted and bandage-like, a piece of faded circus poster cached behind tracing paper that has been used over and over. I'm quite obsessed by it. Pink is a strange hue, ranging from eye bright neon and princess tones to the unsettling camouflage Mountbatten Pink used in the 1940s and Baker-Miller Pink used experimentally on moods and emotions in the late 70s. This doesn't mean that Powdered Veil is sweet or gourmand, the powder is ghostly and transparent, touches of fruit and lush white orchid add form to shadow. There is a smell of childhood doll skin, plastic and malleable and just enough patchouli and labdanum to halt any potential boudoir overdosing.
On its own Powdered Veil is like a second skin, it melds effortlessly with your own; perhaps not the most persistent of perfumes, but then one of the great pleasure of quiet odours is the reapplication of the experience. I am looking forward to the decent into autumn when Powdered Veil and Peau Santal will be beautiful not just on skin but also on cashmere scarves, tweed jackets and folded silk pocket squares. A soft autumn in moreish skin-close perfume. Perfect.