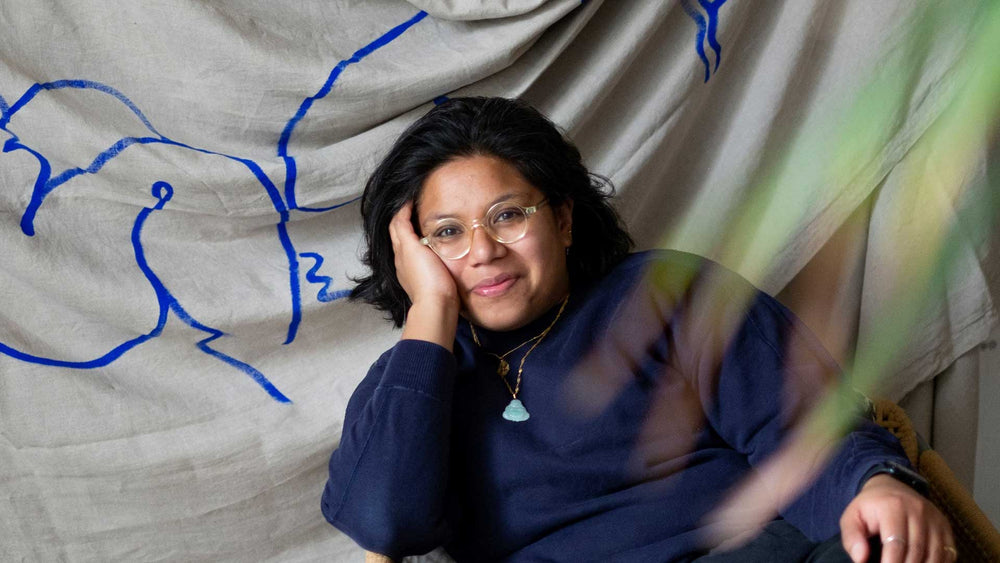 Finding calmness with artist, Laxmi Hussain
To celebrate the launch of our new fragrance, Hydra Figue, we've partnered with a series of multi-disciplinary artists based in London who all use slow-living to inspire their craft, to bring the creative spirit of Hydra to you.
We sit down with artist Laxmi Hussain to discover more about the processes of her experimental line work and mixed media pieces and the inspiration which fuels them. 
Where do you find inspiration?
I look for inspiration in everyone, sometimes this is through Instagram, a walk to the studio or even myself, in order to see diversity we need to practise this in everything and I tend to shy away from places where I know things will be more curated, or aspire to a certain narrative.


What are your favourite things to draw?
The body and motherhood, lately this is much more instinctual and so focuses on the movement and flow of my signature lines and I try to draw this more from my mind when in this mindset.

Blue is prevalent in your work, what significance does this colour hold for you? 
I feel blue was a colour my mum loved a lot, and so I have a lot of memories of her in blue, one particular core memory is my earliest memory of a special day with here when she first took us home to the Philippines and she was wearing all blue on this particular day which is very significant and special in my memory.


When did you become interesting in art?
I've been drawing since I was really little, when my mother died I actually found so many drawings she'd kept from my childhood right up until a few years ago which are mostly cards and artwork I made for her.

What feeling do you hope to evoke in your work?
Empowerment, calm, a sense of self. I want my work to encourage diversity in art,
particularly of the body and the lives we live as women. There is still such a lack of
diversity of body shapes represented in art.

Who are your favourite artists?
My children, they are only influenced by what they want to draw/paint and so there are no rules, they don't care about what other people are going to think of their work, what the art has to represent or whether it even needs to be hung and that makes it so unique. My kids are always leaving me secret artworks in my studio to discover and wonder at.

How do you slow down?
That's really difficult when you work for yourself, which is something so many of us can relate to. I'm grateful that being an artist truly is a real dream for me, and so taking a break can mean trying something new, and yes, whilst that is technically still working, I get so much energy and excitement from breaking my regular cycle and exploring something new. However sometimes you really do need to listen to your body and actually stop; for me this is usually taking time to spend at home, taking a long walk, and obviously in an ideal scenario, a holiday away, if it's possible.


How do you find beauty in the everyday?
I'm a very calm person by nature, and am really drawn to being outside, walking is
something I enjoy a lot, even if it's a city walk. I'm a plant mama and taking a break to look and watch them grow. I'm lucky we live on a quiet hill, and I often get to marvel at the sunset at the top of our hill. And my biggest loves, my family, my husband and I prioritise our family life, because that is the one thing that matters most to us no matter what life throws at us and it's very important to us (having both experienced deep grief of those we love) to enjoy one another as much as we can.

Is there a scent that holds significance to you?
I love the raw earthy smell of being in a forest/woodland. We have a beautiful oak tree in our garden and during this time of the year it sets out its new leaves, the time of year is still a bit damp and you can smell the woody earthiness and freshness of everything spring has put into work - waking up and opening my kitchen window to smell those notes in the crisp morning air is something I take a lot of comfort in.

What songs always appear on your playlist when working?
At the moment - Soul Stream by Melan and So We Won't Forget by Khruangbin - listening to a lot of Khruangbin at the moment!
You can find out more about Laxmi and her work on her website.