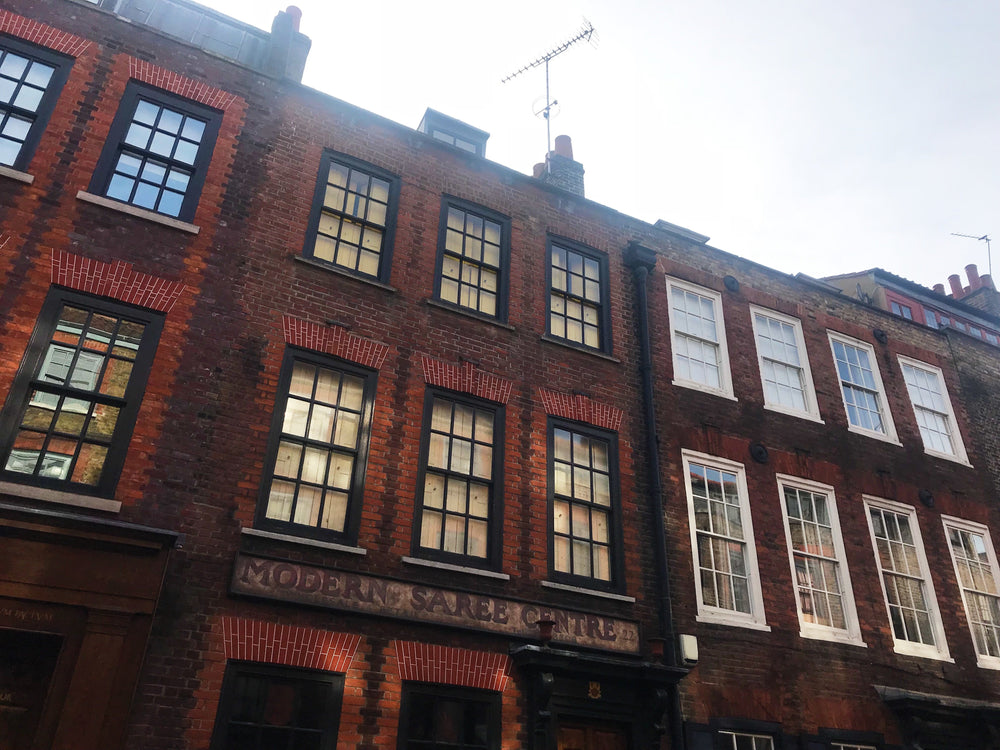 The Silk Weavers of Spitalfields
As religious refugees responsible for the finest silks in London, The Huguenots' fashionable legacy still lives on today…
You might admire those elaborate 18th Century silk frocks on display in the Victoria & Albert Museum, but you may not know that in real life, the people behind them were among Britain's earliest refugees. The Huguenots, otherwise known as the Silk Weavers of Spitalfields, were French Protestants, fleeing persecution who came to England by stealth in their tens of thousands. An influx of people on such a mass scale was unheard of in the 17th and 18th centuries (and caused the word 'refugee' to be first introduced into the English language). Devoutly religious, the Huguenots also happened to be highly skilled craftspeople with a formidable work ethic – and so they began to make their mark on the UK's various industries. Many settled in London, especially Spitalfields which already had a thriving silk trade – and it flourished under the Huguenots, producing the likes of which had never been seen before, such as taffeta, satin and organza.
Like many immigrants and refugees, they were known to work incredibly hard for very little reward. At the top of the food chain were the silk merchants who were responsible for sourcing the raw material from abroad, while the journeyman weavers (i.e. 'jobbing weavers') would create the material into fabric for very little payment. They would hire out a loom at 3p per week, as they couldn't afford to buy it for the princely sum of £1 (which one might say is similar to the housing issues our city has at the moment). If you walk around Spitalfields – especially Fournier Street, and glance up at the houses, you can see the attics where they lived and worked for up to 12 hours a day, to meet the ever-growing demand for this precious fabric.
As well as costly court dresses for aristocrats, Spitalfields had a burgeoning middle class who wanted smart furnishings for their homes, so it was the perfect place for silk weavers to thrive. The Huguenots made it possible for more people to have amazing dresses, waistcoats, fire screens, fabrics for the bedrooms and hangings on four-poster beds. They also enlisted English apprentices to pass on their craft (a modern Huguenot apprentice, Steven Walters was responsible for the silk for Princess Diana's wedding dress).
Among the interesting Huguenot figures, one of them was actually not a Huguenot herself, but an English water colourist named Anna Maria Garthwaite, who lived and worked in Princelet Street late 17th and early 18th century. She was commissioned by the Huguenots to create the floral designs, which adorned many of the silk fabrics (signing off her designs 'AMG' to disguise the fact that she was a woman). There were seven leading designers and she was one of them – no mean feat given the limited social standing of women at the time combined with the cutthroat industry she was competing in.
She would paint her designs onto squares of paper, which the Huguenot weavers would transform into embroidery. (Some of her designs are still on display at the V&A.) Other famous names include Sir John Houblon the first governor of the Bank of England, Field Marshal John (Jean Louis) Ligonier, Commander in Chief of the British Army and Peter Mark Roget (of Roget's Thesaurus) all of whom were Huguenots.
In the mid-nineteenth century, the rise of cheaper fabrics like calico caused people to move towards lighter garments and a less formal style of dress. The silk industry declined and the Huguenots had to seek a living elsewhere, with many settling in places like Sudbury, Braintree and Colchester. The modern silk weavers, Vanners of Sudbury are one of the few companies carrying on their legacy, being of Huguenot descent. And apparently one in six of those born in Britain have Huguenot ancestry (including Miller Harris's own Marketing Director!).
The charity Huguenots of Spitalfields has set about educating and preserving the history of the Huguenots, running workshops in local primary schools in the East End (where many pupils are refugees themselves) as well as organising events and walks. The Huguenots Festival ran throughout October, where local historians and sartorial enthusiasts learnt more about this unique and talented community. Check the website to find out what events they've got coming up in 2019.
More information can be found at huguenotsofspitalfields.org
With thanks to Charlie de Wet and Dr Rebecca Coll of Huguenots of Spitalfields.