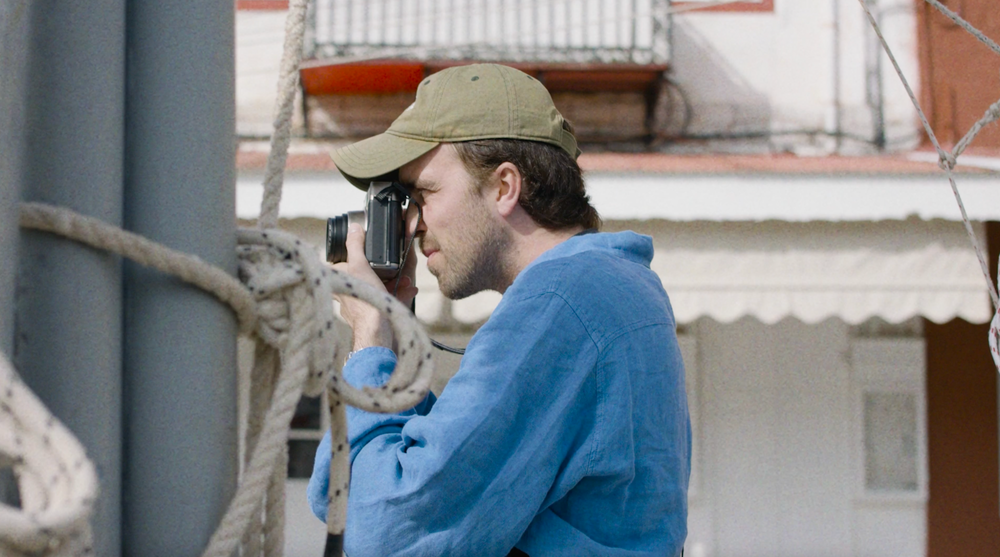 Take Me To Hydra - A Journey With Louis Sheridan
We travelled to Hydra with London based photographer Louis Sheridan to explore how the slow living pace and rich natural habitat of the island can cultivate creativity. Here we sit down with our campaign photographer to find out more about his work, process and explore how getting back to your roots and how getting off the well-trodden path, can help you document the beauty in everyday.
Where do you find inspiration?
Maybe it's trite to say but really, everywhere. I've always been taught that everyone has a story and being bored isn't an option. I love meeting new people, seeing new places, and reading new stories. But there's inspiration in repetition too – walking or driving the same route everyday there will always be something new to see.
What are your favourite things to photograph?
I've always been drawn to the moments and spaces in between. Whether that's scoping out the quieter streets of a teeming city, or turning the camera on people instead of place at an iconic destination. I also love to shoot nature brushing up against urbanity and vice versa. E.g the way ancient trees might frame a brand new construction, or a heavily branded motorbike stands in otherwise untouched wilderness.
When did you become interested in photography and more specifically travel photography?
I've had a camera as far back as I can remember – originally a primary-coloured kids 35mm (usually without film loaded because I was so trigger-happy). I was fortunate to travel a lot growing up and so saw firsthand how important it seemed to document what we were seeing. For a long period of time I was focussed only on shooting fashion, but found that it was the moments outside of the shoots that I enjoyed capturing most. The locations, the relaxed post-shoot feel, the journeys etc. And so gradually everything shifted back into travel photography which seems to be the common thread.
What feeling do you hope to evoke in your images?
A feeling of what it's like to stand, sit, think or fly in that place. I think we're all so used to seeing an easily replicable, quite formulaic take on a landscape that things start to feel almost abstract in how neat they are. Like brochure images or screensavers that pop-up everywhere. And so if there's a way to capture the actual senses of a scene and what it feels, sounds and smells like, rather than nailing every single detail, then I suppose that's the rough aim.
Favourite artists / writers?
I always come back to Thomas Mann and Haruki Murakami for prose that strays into the surreal. For a first person perspective I love both A.A. Gill and Patrick Leigh-Fermour's tales from the road. On the art side, I'm usually drawn to abstract artists like Joan Mitchell and Gerard Schneider. Or artists that took reality and reshaped it, like Alberto Giacometti.
How do you take time to recharge?
Get outside as much as possible. Whether it's walking the city or exploring somewhere wild. The more I focus on what's happening outside; light, people, textures etc, the more meditative I feel on the inside.
What do you like about Greece and Hydra more specifically?
Greece has a raw beauty, rich history and deep culture that in most places would result in an inflated ego. Here, there's still a level of insouciance and openness that makes it such a fun place to explore. And along with that, each island and region has such a distinct personality, with Hydra there's a shared commitment to a slower pace that has made it magnetic for artists and authors over the years – for me the island's dedication to this slower, more creative path makes it unique.
 How do you find beauty in the everyday?
I think when you start trying to find it, you realise it really doesn't take much searching – I used to think it was about slowing down but increasingly I think pace is less important than just keeping your eyes open, wherever you are and whatever you're doing.
Is there a scent that holds significance to you?
Rain, woodsmoke and leather – I grew up with horses in a usually cloud-covered Yorkshire and so these scents are the right mix of adventure and home.
Is there a song / couple of songs that always appear on your playlist when working that we can add to our Hydra Playlist?
This varies a lot by the day/mood but my recently played looks like: Heatwave – The Star of a Story, Mall Grab – You, Daniel Caesar – Toronto 2014.
You can discover more about Louis and his work on his website.